Discussion Starter
·
#1
·
/forums/images/%%GRAEMLIN_URL%%/grr.gif /forums/images/%%GRAEMLIN_URL%%/yell.gif /forums/images/%%GRAEMLIN_URL%%/winkingsmiley.gif /forums/images/%%GRAEMLIN_URL%%/toofunny.gif
Ok - there are some here who may not know that my little Beagle
boy Shiloh was diagnosed about a week ago with arthritis in his TAIL along with having 2 disks (in his tail) that were completely gone and the next on was calcified along with having 2 bone spurs on 2 separate vertebrae (all in his tail). The disk problem is right around the area where the tail joins the body so going potty was painful - lifting his tail. Now Shasta, his little sister is missing rough-housing with her brother something awful - Shiloh guarded himself well against her onslaught and would back away whenever she came near, especially in the house. Shasta rally misses playing tug-o-war with her big brother.
Earlier today, Shiloh was laying on the living room floor - the tug rope laying nearby - both were by me. I reached over to the rope then tossed it over by Shiloh. He began chewing on it then continued chewing for a minute or two. Of course then Miss Shasta had to come over and grabbed the other end - Shiloh didn't stop chewing on the rope and wouldn't get up-just continued chewing so Shasta, still with the rope in her mouth, turned around & straddled him. He never did growl or act like he wanted her to leave him alone although it was shortly after that, that he left it alone but still, that is an improvement that got me smiling so big - I could have used two faces to accomodate my mouth. This picture is one I took a few months ago with a different toy but will give you a good idea of the position Shiloh & Shasta were in earlier today-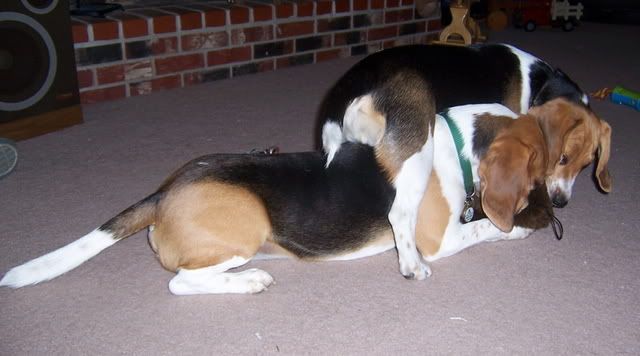 I wish I had gotten a pic today. You never realize what a pic may mean down the road until there is a possibility you may never see one like it again. I don't know if this will happen again - God willing, it will many, many times & Shiloh'n Shasta will again play tug (I have pics of that too). I see little bits of improvement in Shiloh everyday.