Discussion Starter
·
#1
·
Hi Everyone!
I got the call to come pick her up at noon. On my way out to the humane society I got my car stuck in a ditch (we have way too much snow!) but I finally got there. She's pretty ouchy from her surgery. They gave us her anti-biotics and pain killers. And home we went. She's been whining non-stop, I think a lot of it is from the pain. She is non-weight bearing on the leg for the next few days. They said by day 3 or 4 post-op she should start putting some weight on it. No jumping or stairs for a little while. No long walks either. It took a while for her to get comfortable. She can't figure quite the right way to lay down so that her tummy and leg don't hurt. The vet gave us an extra pain killer to give her when she's really uncomfortable.
Ooh I forgot to announce her name. We decided to name her Olive. After the cute little girl in Little Miss Sunshine.
Oscar was very curious when he met her at home. But he isn't too interested in her. He was more focused on smelling where she had been than her actual self. He did try to sniff her when she was laying down and she snapped at him, but I imagine it's because she's feeling vulnerable right now so we're keeping him away from her when she's resting.
Here's a few pics /forums/images/%%GRAEMLIN_URL%%/smile.gif More later once she's settled in more. The pics are off my PDA so they aren't the best quality.
Her sweet face: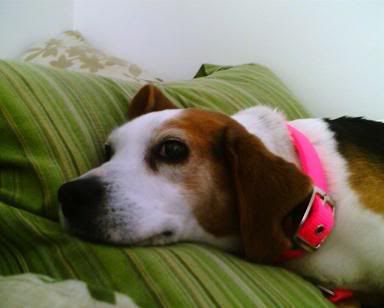 Oscar & Olive with my BF John:
And of course Oscar being cute: