Discussion Starter
·
#1
·
Hi, folks! Denise, a/k/a Gingergoose, had posted about Miss Frances a while back. She is now ready for adoption. Denise asked if I would post her story and her pictures so here you go:
A personal note from Frances' rescuer and foster mom: I wanted to personally write Frances' bio because she is so very special to me. Frances was found behind a high school by some students. They asked if we could take her. I went to get her and it was obvious that she was a hunting dog. She was wearing a bright orange hunting collar with a riveted tag bearing the name and phone number of her owner. I don't know if she didn't hunt so they just dumped her....an all too common occurrence. Or if she just got lost. But she was very frightened and extremely thin. I was very torn about calling the owner of this girl because I knew her fate. But she was not my dog, and I did have the phone number to the owner. I called and got no answer. Within 2 days, when I had not received a call back, I decided to take Frances to the vet. She had a bad case of worms and was high positive for heartworms. That was it....I would make no further attempts to find her owner. The collar came off and went in the trash, never to be thought of again. This girl was not loved, not well cared for and they surely didn't deserve her back. She would not be treated for her heartworms and would end up dying a miserable death. So I began to feed her, worm her and get her in fairly good health so she could begin the sometimes fatal task of getting rid of the heartworms and becoming a healthy little dog. I had Frances about 3 weeks and would always put her out in the puppy yard with any puppies I was fostering as she was a little intimated by adults (having never had any social contact with them). I was doing laundry and could see out the window into the yard and there she was...playing with the puppies. I can tell you it brought tears to my eyes to see this girl behaving as a dog should. Enjoying life for the first time in her entire life. Still to this day she goes out with the puppies and loves to play with them. At least once a day she will get a puppy nutty and just run around the yard like an idiot...just for the sheer joy of it. Frances has come a long way since the day I got her. She now allows me to walk up to her, where I used to have to trap her in a corner of the yard. She still doesn't come when called but will come with a group, especially when treats are being handed out. She enjoys human contact, loved to be petted and hugged. She walks great on a leash and best of all...she is heartworm free and healthy. Frances weighed 22 pounds when she came here and I haven't weighed her lately but I bet she is pushing 30 pounds. She only has 1/2 a tail and I don't know why. It will be very hard for me to let Frances go to a new home....but I can't wait for that day. I want her to be part of a family, with maybe just one or two other dogs....not part of the herd here. If you give Frances that chance you will not only make her dreams come true but mine too.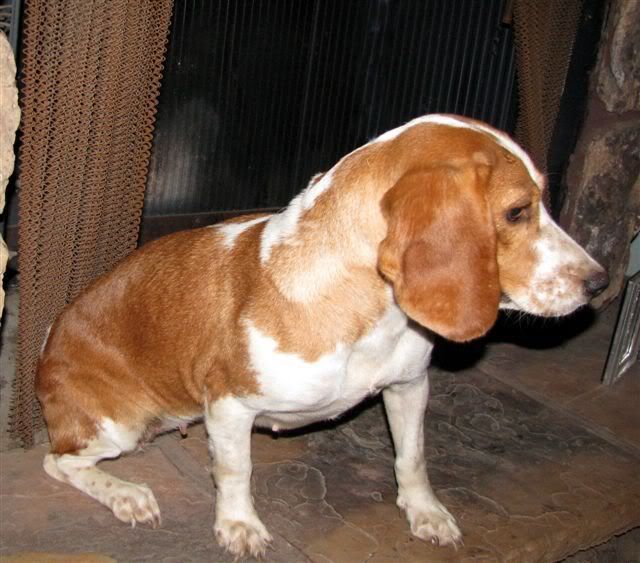 If anyone can open up their heart and home for Frances, please contact Rocky Gates at
[email protected]
. Frances is currently in Louisiana but transport up the east coast is a possibility.