Discussion Starter
·
#1
·
After I finished packing for my trip to Chicago I brought my suitcase downstairs. Apparently Caesar knew that something was up and didn't want me to go anywhere. He jumped right up onto the suitcase and looked so sad.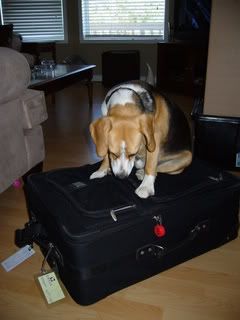 How could I leave him???
Now this weekend we are going to Jasper for a wedding and have to leave him....with someone else! We've never left him before. My boss offered to take him for the weekend but Caesar likes to eat furniture and dig and he's a great escape artist. He needs constant supervision. (you know what it's like) So I stopped by a kennel last night to see what it was like. I didn't tell them I was coming. This place was recommended by a co-worker, he said it was one of the few places that he would take his dog and it looked really clean. He'll have 3 outside play times a day for 1 1/2 hours each time in a big yard all to himself. They have toys for the dogs to play with in the yard.
Any suggestions? Any comments?