Discussion Starter
·
#1
·
Hello,
I'm a long time beagle lover. When I was a kid in Ohio my uncle raised hunting dogs, including beagles. My first dog was a beagle named Pokey and from the time I was seven I could take my .22 rifle and Pokey and roam our 360 acres at will.
Pokey was a great rabbit dog alright. Every summer he'd bring home two or three litters of baby rabbits he'd found out in the fields. He was always so proud of himself. My mom would then spend the next month or so feeding them a special formula she got at the feed store from a doll baby bottle. Most would die, but every now and then a few would make it and be released back out in the fields. Unfortunately, Pokey was hit by a truck and killed when he was about four.
Didn't have another beagle until about eight years ago when we got Suzi, our current beagle baby. We'd lost our border collie Muffin about a year before when she'd had a heart attack at age 16. My wife Paulette and I had started talking about getting another dog and I suggested a beagle. Paulette said it was fine with her, so I started pup shopping. Well, all the beagle pups I could find were $400 or so, and at the time we just couldn't afford that much for a dog.
One Sunday I had just woken up, was still lounging around in bed, and had an idea. What if I started watching the lost and found ads in the paper and if I saw a dog I was interested in (we were open to several breeds) I'd call and let them know that if the owners didn't come forward we'd like to take a look at the dog. So I got out of bed, walked into the living room, picked up the paper and the very first ad was "found, young female beagle." I couldn't believe it! I called and the woman who had her said the dog, about seven months old, had been hanging around the local library for several days and the library workers, knowing she rescues both dogs and cats, called her. She'd had the dog for a week, and she wanted to wait another week to give the owners a chance to see one of the posters she'd put up. If no one had called by the end of the week we could have her.
The following week was one of the longest in my entire life. I felt like a five-year-old waiting for Christmas. Finally, Friday came and I called the lady. "Come and get her," she said.
My wife and I drove across town on Sunday to get the dog and the first look at her took my breath away. She was a tri-color, just what I wanted, and she was beautiful. That was in 1999 and she's been our baby ever since.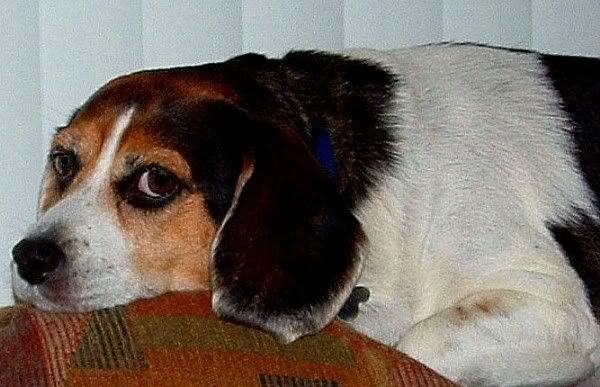 Suzi (she doesn't much like my camera)
I guess it was just meant to be - to have the idea about looking in the lost & found, and for that very day to have the very first ad be for a beagle, it must have been God's idea.
Oh yeah, her name. Suzi was the name of my Pokey's mother, so when we got this little girl I named her Suzi in honor of Pokey and his mother.
Glad to be here.