Discussion Starter
·
#1
·
Just a small intro - we have three beagles: Blaze, Buster and Boomer and one wannabe beagle, BJ. We got Blaze from a breeder six years ago and before long discovered that one was not enough. The boys, Buster and Boomer are rescues and have been great additions although Boomer is responsible for a great deal of my grey hair - he is an escape artiste!
I am glad I found this board and hope to contribute what I can and learn from all of you.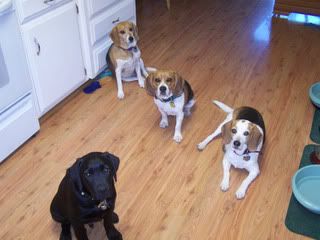 Beagles (l to r) Blaze, Boomer and Buster and BJ the wonder puppy!