Discussion Starter
·
#1
·
I cant believe how much Glover has grown up in the last 4 months! when I look at all these puppy pictures on this site I just cant remember Glover EVER being that tiny! well... he was never tiny but he was small! /forums/images/%%GRAEMLIN_URL%%/doh00000.gif
Now he has gotten a more mature look about him although he is still such a baby!!
http://i252.photobucket.com/albums/hh19/kristjanas81/IMG_2062.jpg
Glover really enjoys being outside, and loves even more going to school on saturdays! there we discovered a new toy! a child's sandpit filled with water!! in the heat this is a fantastic supervised play equipment! He absoulutely LOVES it!! /forums/images/%%GRAEMLIN_URL%%/toofunny.gif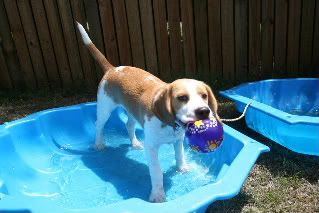 We have had our ups and downs with Glover and find ourself often in doubt if we are doing things right, at the moment we are struggling with the one hour after the afternoon walk between feeding time and bed time for Glover, 5pm - 6pm. He is horrible!! lol, he barks and barks, digs holes, runs around like crazy, wants to be inside, then outside, then inside again!! then we come out to play and he wants NOTHING to do with us... little bugger! He also does this on weekends, when he gets even more attention than normal, so I don't really know what it is... /forums/images/%%GRAEMLIN_URL%%/heart.gif
Anyway, he is going to get desexed on monday coming! turning 6 months and hopefully settling down..... lol /forums/images/%%GRAEMLIN_URL%%/angel.gif
Here's a video promised of Glover and his favourite game... playing with his sheet..
Crazy
I don't know why these pics are so big... I resized them in photobucket.. sorry about that!
x
K and G