Discussion Starter
·
#1
·
OK, so believe it or not, I already written this entire post last night and it didn't appear as posted for some reason, so here it goes again:
We packed ourselves Friday night and first thing Saturday morning (6:30 AM) loaded my aunt's Camry on our way to the capital - Washington DC. The driver (me) was very good, and with the help of the GPS (yay!! to whom ever invented this brilliant thing) the driving wasn't a problem at all, and that was the first time driving here at all
. Chloe was in her bag the entire way, no sickness, no throwing up, like an angel, I was so proud:
We made some stops on the way, especially since I had only about 3 hours of sleep the night before. We arrived in DC at about 1:30 PM and checked in to the hotel, got some rest and headed to Georgetown. It was even nicer than I remembered, we walked around the shops, had ice cream and a great dinner at this Vietnamese restaurant (yummy)... Chloe insisted that we take her picture with this wooden fish at Anthropology, so we did:
When we got to the hotel for the night, Chloe remembered that she didn't get her play time, so my little brother obliged:
We woke up the next morning and headed to the monument area.
On the way, we saw this beautiful horse by one of the Smithsonians, so of course, picture time: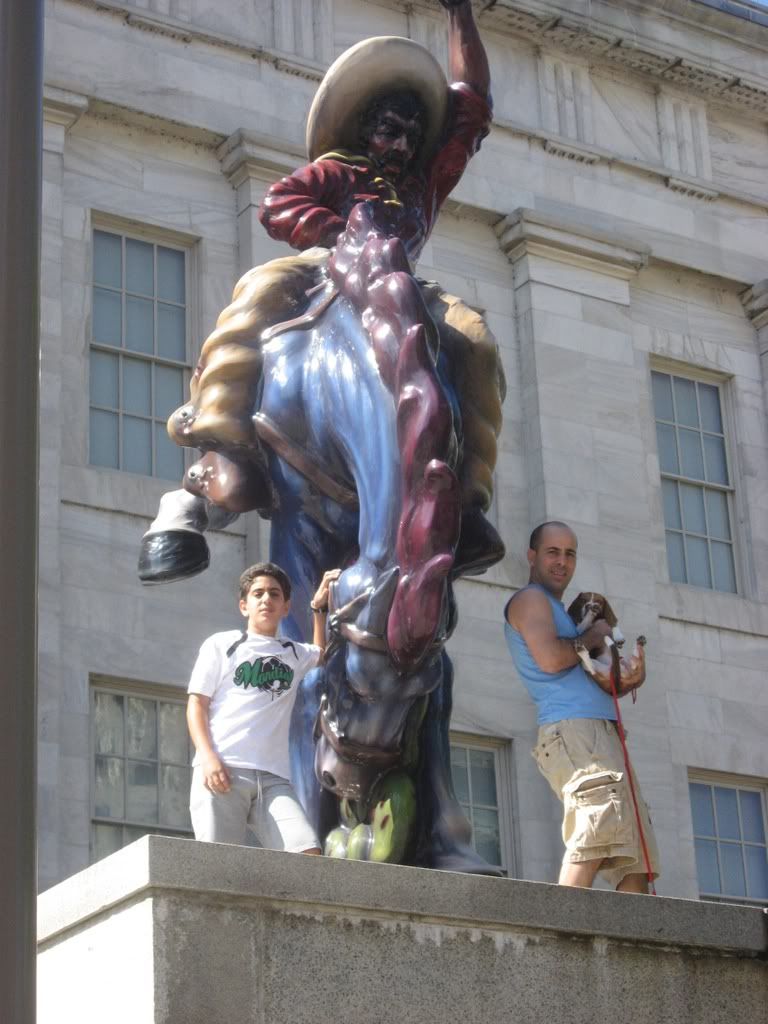 Chloe wanted to give her input on some major issues, but Capitol Hill was closed for visitors (renovations):
(don't know what that turned out blue)
Then we headed towards the other monuments, WW2 memorial:
some of the other monuments we didn't take pictures of, as we already have them from our last trip, and the camera battery was running low....
We walked down/up Pennsylvania avenue looking forward to Chloe's play date with Barney and Ms. Beasley. When we got there, the gate was closed, and the housekeeper told us that GW won't let those two play without parental supervision:
(don't mind my hair, it was hot like hell, and humid - in short: not the best hair day
)
Then we headed back to NYC. Home sweet home