Discussion Starter
·
#1
·
So Grand Forks finally put in a dog park this year and we have been going to it for the last couple of weekends with my friend Michelle and Max's buddy Prince. I didn't think I would enjoy the dog park so much but it is great watching them go there and run around. Max has been the object of affection for one to many dogs if you know what i mean. His short little legs can't keep up with the other dogs sometimes he runs after them howling lol.
There's so many different pups Max has met another beagle, a great dane, the dogs that have long long almost human like hair, even these HUGE dogs that the only way I can describe them is they kind of look like chewbacca needless to say Max is terrified of them and goes running the other way (we ran into them downtown once and max started crying and tried to get out of the collar to run the other way /forums/images/%%GRAEMLIN_URL%%/rotatesmiley2.gif ) The only thing I don't like about the dog park is that sometimes the other owners don't clean up, and there's this one little dog that is there all the time and runs after dogs barking and biting their legs and the owner does nothing ahhh /forums/images/%%GRAEMLIN_URL%%/pimp.gif Hope you enjoy the pics!
Prince and Max wrestling over a toy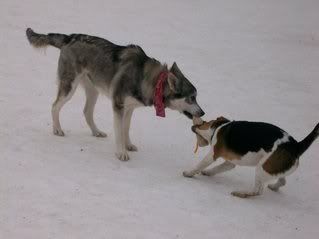 Max and Prince
3 noses
Max, Prince and another regular....as you can see I'm all bundled up it was FREEZING!