Discussion Starter
·
#1
·
I thought I would post a couple of pics of the destruction one little 6 month old Beagle can do within a few days.
My Tater Tot has always been such a good puppy, but in the last week or so he is going nuts with the chewing and destroying of anything soft and fluffy. lol He has plenty of chew toys, kong filled toys, ropes, etc... and he has 2 other dogs to play with at all times, but despite the fact that I am home with him all day he has successfully gotten into trouble without me realizing it.
He is kennel trained and I thought I was being a good dog owner by allowing him freedom in the house, but I guess unless I am actually playing with him, I may have to keep him in his kennel until he is two. Just kidding. Any suggestions would help though.
One dog bed down....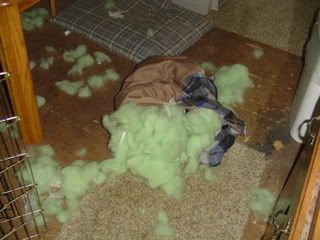 One living room throw pillow down...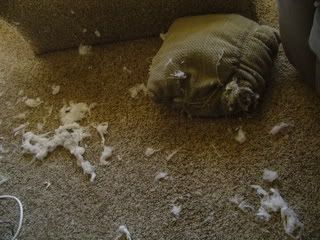 These are the only two I took pictures of but he has actually destroyed 3 dog beds, the throw pillow and some unmentionables that he proceeded to take to the yard so that all the neighbors could see. lol